The wardrobe has a strategic function in storing important items, as well as being one of the complementary components of the room layout. But many people in Singapore have problems with their wardrobes so they need a variety of references about wardrobe design and professional interior designers.
In many cases, the wardrobe feels too big, making the room cramped. Some want to change their wardrobe because the design is too old-fashioned, there is damage due to age, and other problems that interfere with their comfortable activities. But this desire is often not accompanied by sufficient knowledge in applying wardrobe design interior or estimating costs.
How to Renovate a Wardrobe for the Ideal Wardrobe Design in Singapore?
At first, we have to agree that wardrobe design ideas should not be separated from the interior design concept. This is a part of furniture that must be considered for its placement and appropriateness so that its function is optimal and remains beautiful to look at. There are many things you can do so that your wardrobe can blend into the perfect interior design. Let's look at the following description:
Applying the Concept Of Built-In Wardrobes
To make the room feel spacious and dynamic, you may be recommended to make built-in wardrobes. This is a wardrobe design idea that blends in with a permanent wall or partition. This kind of design makes the wardrobe storage space more and more dynamic while supporting a proportional layout.
Walk-In Wardrobe Design Singapore for a Minimalist Room
This is the concept of building an HDB built-in wardrobe in Singapore with lots of space, such as shelves and compartments for storing folded clothes, as well as another compartment for clothes that can be hung. This kind of wardrobe makes it easy for you to find the clothes you want and keep your clothes neat without having to make the room feel cramped.
In many interior design service company portfolios, there are many references to the Singapore walk-in wardrobe and bedroom wardrobe design that you can make as examples and inspiration. Keep searching for inspiration about the wardrobe that best fits your personality while starting to select the right interior designer to execute your dream wardrobe.
How Much do the Singapore Built-In Wardrobes Cost?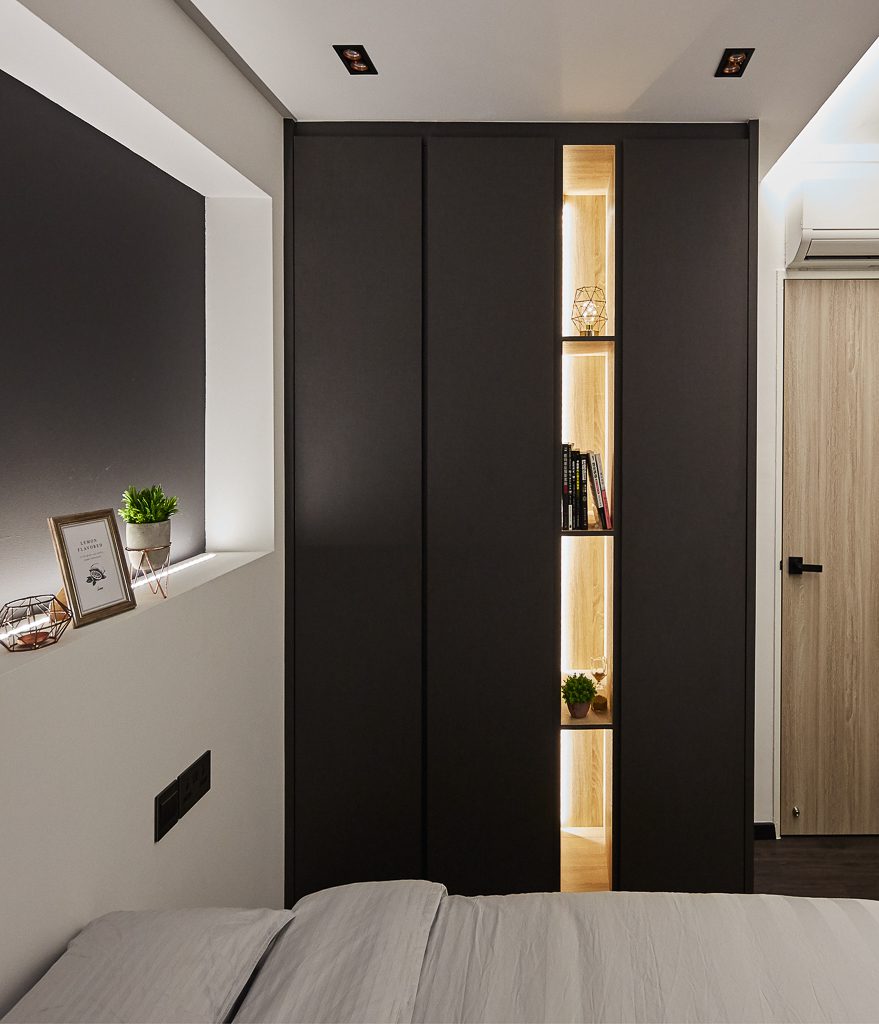 You must at least prepare around SGD 1400 – SGD 6700 to create a Singapore wardrobe design set. But this cost can be less or more, depending on the choice of material for the wardrobe, the size of the wardrobe, and the details of the wardrobe.
But you should include the agenda of making built-in wardrobes along with furniture renovation. For the type of HDB wardrobe design in Singapore, the estimated cost can be from SGD 40,000- SGD 135,000. Even though it seems more expensive, this kind of method is even more efficient because you can combine the wardrobe design with the overall interior design concept.
How Do You Build a Walk-In Wardrobe in a Small Room?
Interior design techniques allow you to have a wardrobe capable of storing many items even in a narrow room. For example, a walk-in wardrobe design for HDB flats will deal with colour selection, large mirror placement, and other techniques that you can communicate with selected interior designers.
One of the most ideal interior design service companies to work within implementing Singapore-built wardrobe design is Sheinterior. There are many services available, from professional design consultation, propose space planning, to detailed perspective drawings for HDB bedroom wardrobe design or other rooms.
That way, you can customize your wardrobe design concept with recommendations from interior designers. Working closely with Sheinterior also allows you to get recommendations about budget planning to be more efficient without having to reduce design quality.
Call

Sheinterior