Apartments with outdoor spaces are always coveted in Singapore's major cities. We're only just beginning to see what it's like to work from home and the effects it's going to have on the rest of the world. Now is the time for the HDB to build more balcony-friendly housing. 
During the COVID-19 outbreak, there has been a botanic boom among Singapore residents, resulting in many indoor plants being bought and planted. HDB has received requests for flats to be constructed with balconies for residents to have gardens. Singapore's high-density population makes it familiar for residents to have private outdoor space.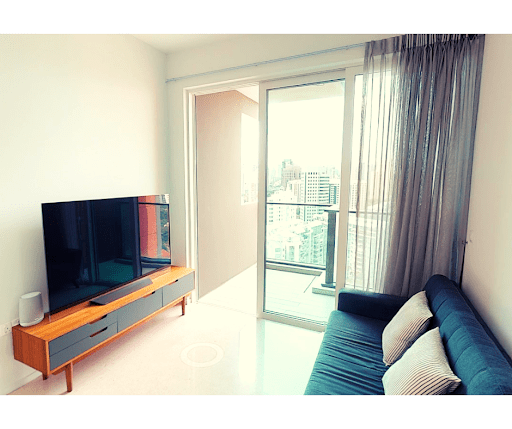 Want to live in an HDB flat with a balcony space? Here's a list of balcony ideas for stylish large and small HDBs in Singapore that you can apply in your Singapore home:
Try balcony windows for your flat balcony ideas
If you want to spruce up your current HDBs without having to move home, then add a balcony window will help you achieve this goal. Window sills are the low areas of a window frame between the top and top of a window pane.
There are different types of balcony windows on the market. Most people still prefer fold-down windows, but folding windows have advantages, and a better design can make an HDB more spacious. Window tiling, or "window shingling", is not only more secure but also more attractive, particularly when you're renovating. Getting a detailed architectural design or a project proposal from a qualified architect is best when planning a major renovation.
Create a bar counter for a small balcony flat balcony ideas
A small, narrow balcony becomes less valuable if you put furniture there because it won't accommodate enough. If you want to add a bar and seating to your balcony, install a counter and stools against the rail.  A folding table, clamp-on, or standalone bar table are all affordable options worth checking out. This idea is perfect for a 2-room HDB with balcony ideas.
Both are great options for adding counter space to your HDB or condo. An extra pair of stools can turn an otherwise small table into a more comfortable dining area for an intimate dinner party.
Extend your living room area to your balcony HDB balcony rules
Using a perimeter bench makes for a convenient, open-plan living room that's easy on the eye. Full-length balcony doors add space using trackless sliding doors and matching flooring materials. Perimeter benches are the ideal way to maximise seating areas, but those who enjoy a good siesta can install a daybed or hammock chair for a lazy afternoon instead.
Convey your balcony to a cosy spot
Make your balcony a cosy spot for you and your family to relax in. Use pillows, small blankets, a table, and a sofa to make your balcony more comfortable. If you want maximum comfort while reading, add small shelves or magazines to keep books and magazines for when you want to kick back outside.
The most important thing you need is a place to sit. Add seating that allows you to sit comfortably, such as a sofa, chair, or lounger. Make sure it's large enough for the whole family, so you don't have to share! Give your balcony a little privacy. A balcony can be a great place for relaxing with friends and family, but if you're planning to host guests, you might want to give your space a little privacy.
Make your balcony a romantic area in your HDB Singapore
Create an intimate, romantic atmosphere for your guests by hanging lanterns in your window. Use candlelight to accentuate the décor and give your balcony a magical feel. String lights are an excellent way to decorate your garden and enhance the look of your home.
Make your balcony condo area an elegant one
Balcony condos are a definite step up from the more affordable studio HDB. As such, the designers should be aware of their role, understand the needs and requirements of the consumers and then create a product accordingly. To build a classically beautiful balcony, the first step is to install high-quality flooring, such as a floating timber floor.
Balconies are created to look good and provide a wonderful view. Your family and friends will notice that your living space is a little more fun and a little less stuff. You'll be inspired to create beautiful art pieces to showcase in your home.
If you have a large balcony, you can create an intimate space
For a 5-room HDB with a balcony, space is usually abundant. This means you get a larger balcony space with a more open outlook rather than the enclosed balcony spaces that most HDB flats are built to provide.
A big terrace like the one above has plenty of room for seating and is a good size for entertaining. A beautiful home décor piece uses a Christmas tree to bring joy into the household even when unused.
Make your balcony a playground area
Families with young children began looking for houses with balconies, as many wanted to let their children enjoy the fresh air while being safe at home. It's a good idea to transform a balcony into a play area. There are some ideas to add to the area.
A tent filled with pillows for kids

An inflatable pool filled with sand is for a playbox

The table and chair are small enough for a child to use
The area should be covered with artificial turf or rubber mats. It would help if you secured the zone with proper meshing too.
Create your balcony for a study area
You don't have a big bedroom to have a decent study area. If you have a spare balcony, you can use it for a study. Many say that having a window in their studies helps them focus and work better.
This is the deal for you if you want to maximize the light in your house but not put a hole in your wallet. To get the best results with your workspace, consider the sun's direction throughout the day and whether there are any shadows and screen glare. Blinds can be used to block harmful rays for a more pleasant workspace.
Change your balcony into a laundry room
You should create a laundry room to make your balcony a utility space. This extra space can be used to make your laundry room more unique.
Some shelves can be used to store detergent and fabric conditioners

It's a good idea to put a laundry rack on the balcony ceiling

There are clothes, peg baskets, and hangers in this picture
Creating a reading nook in your balcony area
It isn't easy to see a place other than a reading Nook being used. In the place of a study table, use a plush armchair or beanbag.
After curating a peaceful space for reading and reflection, people will scramble to find a balcony to have some alone time. You might think that only sunny weather is tolerable, but you don't have to let that stop you from enjoying the outdoors.
HDB Flats with Balconies can be found from $500,000
Living in an HDB flat with balcony space is the most affordable way to have private outdoor space in our city. HDB units have balconies all over the island. We found a few HDB flats with an HDB with balcony for rent or sale.
HDB flats with balcony space for sale
Price
4-room flat at

347A Yishun Avenue 11

$599,000

3-room flat at

748C Bedok Reservoir Crescent

$580,000

5-room flat at

196D

Punggol Field

$568,000

4-room flat at

310B Punggol Walk

$545,000

3-room flat at

348C Yishun Avenue 11

$528,000

4-room flat at

684C Edgedale Plains

$680,000

3-room flat at

475D Hougang Parkland Residences

$500,000

Executive HDB at

544 Pasir Ris Street 51

$880,000

4-room flat at

138B Yuan Ching Road

$700,000

4-room flat at

519C Tampines Central 8

$758,000

5-room flat at

167B Simei Lane

$880,000

5-room flat at

7 Boon Keng Road

$1,388,000

4-room flat at

138C Lorong 1A Toa Payoh

$900,000

5-room flat at

275A Bishan Street 24

$1,280,000
Most of the flats are located in the districts of the OCR. If they are newer HDB flats, they are located in Punggol or a DBSS unit. Larger five-room HDB flats and executive HDBs can be found in older homes with balconies.
Design and create the perfect balcony for your HDB Singapore with SHEINTERIOR
If looking specialist for a new interior design for your balcony with a 3D drawing process SHEINTERIOR is the perfect solution for specialists looking for a new interior design with a 3D drawing process. Our services include the entire project management process from conception to construction, including architectural and engineering services. SHEInterior is the perfect solution for all your interior design needs. Get your best home design plan and result with us! Contact us  here for more information or visit our showroom at 21 Woodlands Close #09-43 Singapore 737854 (Primiz Biz-Hub).